Orthopedic Spine Surgeon in Plano, TX
At Advanced Spine Center, Stephen Courtney, MD, provides the highest quality medical care you need along with the compassionate bedside manner you want when considering spinal fusion, cervical or lumbar injections, or revision surgery. Based in Plano, Texas, since 1995, Dr. Courtney has more than 28 years of experience as a board-certified and fellowship-trained orthopedic spine surgeon.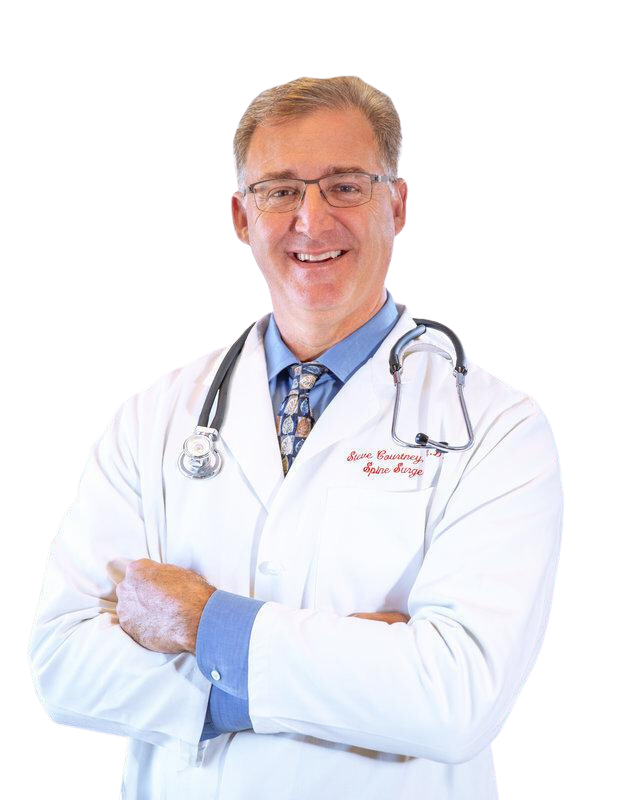 Meet Dr. Stephen Courtney
Dr. Stephen Courtney is certified by the American Board of Orthopaedic Surgery and is a member of the American Medical Association, the Collin/Fannin County Medical Society, the American Academy of Orthopaedic Surgeons, the North American Spine Society, and the American College of Spine Surgery.
Over the years, he has developed his own line of FDA-approved surgical tools, Eminent Spine®, to improve patient experience and surgical outcomes. Dr. Courtney is proud to hold 18 patents and 15 trademarks and trains orthopedic surgeons across the US in the use of surgical tools.
Voted Best Spine Doctor by Living Magazine
"Five stars aren't enough for this good man. Dr. Courtney is incredible. His knowledge is boundless. He talks to you like a person. He cares for how you are feeling. Dr. Courtney is good, honest, highly-skilled surgeon. I would endorse him any day."
"Dr. Courtney and his staff are the best in the business. I wouldn't even think of seeing another orthopedic surgeon. Definitely give him an opportunity to change your life for the better."
"Awesome, excellent staff, very caring and Dr Courtney has changed my life as far as enjoying physical activities without the pain. Don't bother with anyone else, just go see Dr. Courtney."
"Dr. Courtney is the best Orthopedic surgeon in Texas! He has performed cervical and lumbar fusions on myself and cervical fusion on my mother. He has great bedside manner and a comprehensive, thorough recovery plan. Highly recommend his expert services."
"Dr. Stephen Courtney is fantastic and answered all my questions regarding my lower back pain. I highly recommend him to anyone who has neck or back pain! I have been pain free for 6 months! A+++"
We accept plans from the following providers. Please contact our office to determine whether your specific plan is accepted. This list may be subject to change.