Lumbar Radiculopathy (Sciatica)
Lumbar Radiculopathy (Sciatica)
Our Goal for You:
Identify the cause of your pain.
Minimize your down time with non-surgical or minimally invasive procedures if possible.
Get back to living the life you want.
Overview
This condition is an irritation or compression of one or more nerve roots in the lumbar spine. Because these nerves travel to the hips, buttocks, legs and feet, an injury in the lumbar spine can cause symptoms in these areas. Sciatica may result from a variety of problems with the bones and tissues of the lumbar spinal column.
Causes (Herniated Disc)
One common cause is a herniated disc. A herniated disc is a rupture in the fibrous outer wall of a vertebral disc, which allows the soft nucleus of the disc to bulge outward. This bulge can press harmfully against a nerve root.
Causes (Degenerative Disc Disease)
Another common cause of nerve root injury is degenerative disc disease. It occurs when a spinal disc weakens, allowing vertebral bones above and below the disc to shift out of position. The bones can touch, pinching nearby nerve roots.
Causes (Spinal Stenosis)
When bones, discs or joints of the spine degenerate, bony spurs may form and push into the spinal canal or foramen space. This is called spinal stenosis, and it can also create harmful pressure against the nerve roots.
Symptoms
Nerve root injury may occur at any of the five vertebrae in the lumbar spine (called the L1 through L5), or at the level of the sacrum (the upper portion of which is called the S1). Symptoms may include pain, weakness, numbness and tingling, and may vary depending on the level of the injury. For example, an injury at the L2 level can create thigh pain and hip weakness. An injury at the L3 level may result in thigh pain and knee and thigh weakness. Damage at the L4 level may cause pain from the lower back to the foot and also foot weakness. Damage at the L5 level can create pain from the outer leg to the top of the foot and also foot weakness. And finally, damage at the S1 level can create pain from the calf to the outer foot and also foot weakness.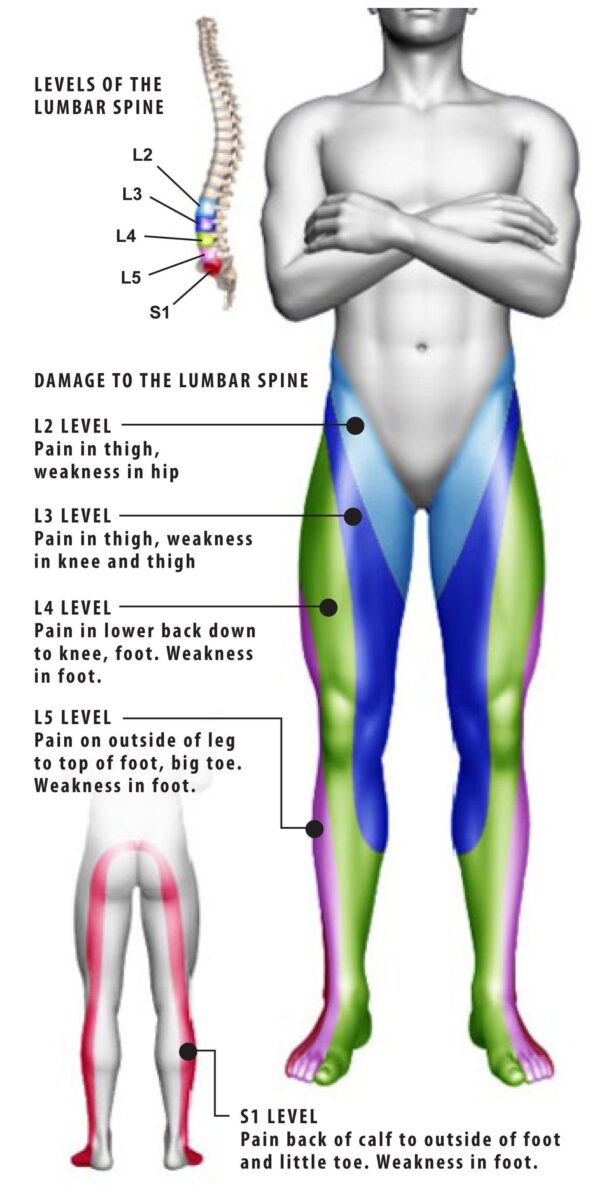 Why Choose Advanced Spine Centers
Board Certified & Fellowship Trained.
Voted 2019's Best Spine Surgeon.
Internationally Recognized Trainer to Spine Surgeons.
Pioneer in Non-Surgical & Micro-Surgical Procedures.
The doctor and his staff were very welcoming and kind ..explained my issues in detail . Will highly recommend
Every visit to Dr. Courtney's office is educational and most beneficial. Dr. Courtney and ALL of his staff are the best!
My wife and I both go to Dr Courtney for back issues. Great care. Great staff. Great surgical facility and smooth process. LOVE THEM!!!
Dr Courtney and his staff truly care about my well being. They are the only ones I have found that have been able to help me with my workman's comp claim
Does your back hurt? Has your back been hurting, yet no other surgeon can or won't help you; or worse tells you nothing is wrong? You're in the wrong place! I had 4 back operations with no improvement. I had an additional 6 other consultations with "there's nothing wrong with you". The truth was I was probably 2-3 months away from permanent leg and lower back paralysis. He fixed me. I can stand, I can walk. I threw away my crutches of 13 years. If you need back correction - GO SEE THIS DOCTOR! He will fix you, and fix you correctly, if it is humanly possible. Enough said! Go see him. He tells the truth and tells it like it is. 🙂
Dr courtney and his staff are great! Dr courtney always takes his time with you and I feel he truly cares about his patients.
Great Dr and helped me multiple times over the years Would recommend to anyone that needs help
Dr. Courtney is knowledgeable and takes the time to really explain what's going on and explain why you're in pain and the several options to correct the issue. I never felt rushed and he was on time to our appointment which is such a rare thing. The rest of the office staff was absolutely top notch. They were really down to earth and so nice, you could tell they liked their jobs and were treated well. It was a very welcoming atmosphere. I felt very comfortable and I knew I was in capable hands just by the way he treated his staff and listened to his patients. Highly recommend.
Dr Courtney did my neck surgery and my 360 back surgery. I would not go to another surgeon, he cares about his patients and it shows! His staff is great as well! I trust his opinion and skills 100%